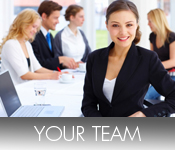 Your design team has created a wonderful layout in Photoshop — but how do you transform it into standard-compliant HTML code?

This is where we come in: We take your PSD file and create cross-browser compatible (X)HTML code. Our own website once was a Photoshop file, too.

The only requirement is that all layers are intact, and exotic fonts need to be supplied (as we cannot guarantee we have them all).


Most layouts don't take more than 2 business days to convert. If you have any special requirements (like drop-down menus, etc), the time might increase slightly.

You will receive all images, HTML and CSS files necessary to load the finished page in a browser and continue development from there.

All code will be tested in the most common browsers (IE >= 6, Firefox/Seamonkey, Safari & Opera) and verified for compliance with the W3C (World Wide Web consortium). For simple HMTL code, your server platfrom is irrelevant, we guarantee our code will work on Apache as well as on Microsoft®IIS.

Let us know what you have in mind, let's get started!
1-877-NINANET
(1-877-646-2638)