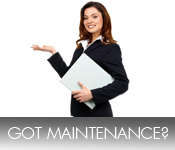 Change happens. Every day.

Changing and maintaining your enviroment should be part of your security policy as well as a portion of your optimization activities. It depends on your particular setup when to implement changes and/or what maintenance cycle you follow.

The important thing is that you do follow it.
Every day a new security bulletin informs about a new threat. New exploits are discovered. How can you keep track of everything?

Unless you have an in-house IT department (and even then) this is almost an impossible task. Not all exploits might threaten your specific environment, not every vulneratbility will concern you.

Let us help you evaluate your current situation and determine a maintenance strategy that fits your needs.


1-877-NINANET
(1-877-646-2638)